Aras Tarla Amir Glass Greenhouse Complex (hydroponics) was inaugurated by the President's order in a video conference session on September 10, 2020.
At the online inauguration of this complex, Dr. Hassan Rouhani, President of Iran, said: "Today, one of the largest greenhouse projects in the Middle East was launched in Aras Free Trade-Industrial Zone (AFZ). As mentioned earlier, this complex can play a major role in employment and exports. The products of this greenhouse are supplied to both domestic and foreign markets throughout the year."
This is the largest project of hydroponic cultivation in glass greenhouses in the Middle East. The foreign exchange and rial investment required for this project is estimated at a total of 11,000 billion rials.
This video conference meeting was attended by the Governor of East Azerbaijan and some AFZ (Jolfa) officials, including Mr. Mohsen Nariman, Managing Director of Aras Free Trade-Industrial Zone Organization.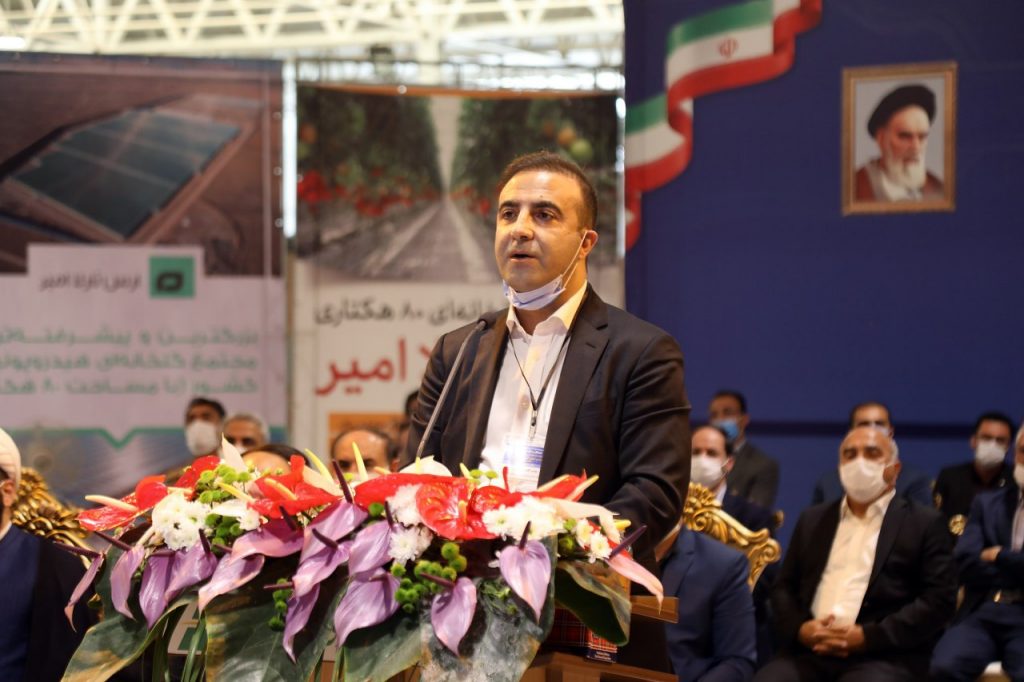 Mr. Ebrahimi, the executive manager of Aras Tarla Amir Glass Greenhouse Complex, also spoke about the production and export capacities of this complex and appreciated the assistance and supports of Dr. Khavazi, Minister of Agriculture Jihad, Ruhollah Khodarahmi, CEO of Keshavarzi Bank, and other officials, including managers of Keshavarzi Bank branches in East Azerbaijan Province.
In a talk to the press on the sidelines of this meeting, the Head of the Agricultural Jihad Organization of East Azerbaijan Province stated, "Aras Tarla Amir Glass Greenhouse Complex is the largest hydroponic cultivation project in the Middle East that was built in an area of 80 hectares. This greenhouse complex provides employment opportunities for 684 people directly and 1,000 people seasonally."
Reiterating that there was no greenhouse in Jolfa before Rouhani's administration (the government of prudence and hope), Akbar Fathi said, "The inauguration of this project increases the number of active greenhouses in this province to 55 in an area of about 200 hectares in Jolfa. The expansion to this area to 160 hectares will transform this region into the center of greenhouse production in Iran."
Noting that this complex has a Dutch glass structure with a useful area of 57 hectares and a total area of 80 hectares, he added, "The production capacity of this complex is 45 kg per square meter (450 tons per hectare) and the project's total production capacity in each cultivation period is 25,650 tons."
He added, "The first project of this investment group, titled Aras Tarla Amin Greenhouse Complex, has been exploited since 2017 in an area of 50 hectares (with a cultivation area of 30 hectares) for hydroponic cultivation. More than 90% of the products of this complex are exported to Russia and Arab countries under the Atavita brand."
He also stated, "To develop this project, Aras Tarla Amir Greenhouse Complex was established in an area of 80 hectares, 57 hectares of which is under cultivation, in an integrated glass greenhouse. The construction of this complex included the following operations: leveling the area with a volume of over 6 million m3 of earthworks in less than 10 months, over 1,800 km of piping for irrigation and heating systems, and construction of advanced water treatment systems with a daily capacity of 7,500 m3. The construction of this new greenhouse sends this greenhouse complex to the list of the world's 10 largest glass hydroponic greenhouses."
Saying that this greenhouse complex aims to produce vegetable and summer crops throughout the year (in addition to the normal growing season) and export them to countries of the region, especially Russia, the Head of the Agricultural Jihad Organization of East Azerbaijan Province stated, "Numerous crops such as cucumber, eggplant, bell pepper, and tomato are produced in this company. Currently, different types of tomatoes and bell peppers in different colors (the Californian type of different varieties) are being cultivated and harvested in this complex."