Atavita's ISO Certificates:
Aras Tarla Amir Company and Aras Tarla Amin Company, as the owners of Atavita brand and a producer and exporter of the best greenhouse products in Iran, have managed to obtain the certificates of ISO 22000 (2018), ISO 9001 (2015), ISO 14001 (2015), and ISO 45001 (2018).
These certificates honor Atavita's achievements in producing and packaging tomato and bell pepper as well as exporting them to Europe and Russia.
These standards ensure the commitment of producers to the community and customers and flaunt the superior quality of their products.
What is ISO certification?
The International Organization for Standardization (ISO) is a non-governmental international organization founded in 1947. ISO is derived from the Greek word "isos" (which means "equal").
ISO members are the representatives of national standards bodies of 164 countries, including Iran. Coordinated by the central secretariat based in Geneva, this organization aims to set general and specific standards to align various global standards.
As a strong global consortium, ISO interacts with governments and promotes global economic and industrial standards to coordinate exchanges of different industries and technologies.
These standards, which cover almost everything related to technology, contribute to more efficient, safer, and healthier production and supply of goods and services.
ISO standards not only facilitate and improve trade and commerce between countries but also support consumers of goods and services and make their lives easier.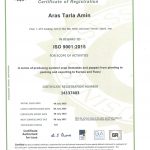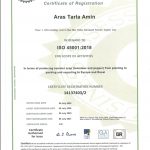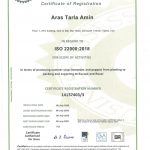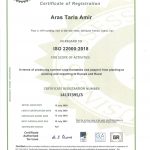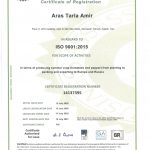 How do ISO standards benefit communities?
For commerce: General acceptance of international standards allows producers to develop their products and services in accordance with international standards and gain greater popularity.
For buyers: General compliance of products and services with international standards around the world increases consumer choices and creates competitive prices.
For governments: The technological and scientific foundations provided by international standards promote health, security, and nature conservation.
For developed countries: International standards allow developed countries to properly invest in scarce resources and avoid waste of resources.
For consumers: Compliance of products and services with international standards ensures product quality.
For the environment: International standards of air, water, and soil quality, emissions, and radiation help protect the environment.
What does each of Atavita ISO Certificates mean?
What is ISO 9001?
ISO 9001, as the basis of all kinds of ISO certificates, is defined as the international standard that specifies requirements for a quality management system. It is the most popular standard in the ISO 9000 series whose latest revision was published in 2015.
What is ISO 14001?
ISO 14000 is a family of standards related to environmental management. The benefits of ISO 14001 are as follows:
Reduction of a variety of water pollutants, such as wastewater
Reduction of all types of soil pollutants
Reduction of various types of air pollutants, such as fine dust
Reduction of noise pollution
Introduction of law-abiding and environmentally friendly companies
What is ISO 22000?
ISO 22000 is an international standard of safety management systems in the food industry. This standard aims to control food safety and reduce contamination and hazards of food products. The benefits of designing, documenting, and implementing ISO 22000 are as follows:
Enjoyment of ISO 22000 certification for tenders
Introduction of companies that observe safety requirements in the food industry
Control of food products to reduce the risks of non-compliance
What is ISO 45001?
ISO 45001 is an international standard of occupational health and safety. It helps organizations to improve the health and safety of their employees and save their lives.